---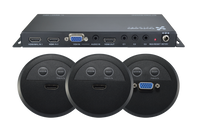 Share-Meâ"¢ Kit: Switcher, (2) HDMI control insert, (1) VGA control insert, (2) HDMI Cables, and (1) VGA Cable
The TL-SMKIT-04 is a kit that combines the TL-SM3X1-HDV with (2) TL-SMG-HD and (1) TL-SMG-VGA grommets.
~~
We've all experienced it…you walk into a meeting room and there are cables all over the place… a couple on the table, a couple under the table, maybe one dangling from the projector or display. You place your laptop on the conference room table and ask, "which cable do I use to connect my presentation?" Your colleague just stares back blankly… Great, this meeting is off to a wonderful start…
The problem is exacerbated when you have multiple people all trying to share content. A poorly implemented meeting room that is difficult for one presenter to use efficiently is near impossible for multiple participants. Enter TechLogix…
 
TechLogix Share-Me™ Series presentation switchers redefine the usability, versatility and cost of huddle room, meeting room and classroom collaboration. When paired with the included table inserts, the Share-Me™ Series under-table mounted switcher provides both AV switching and display control for the cost of most 40" displays using innovative table insert controllers and a professional-grade switcher.
 
Two table inserts are included for HDMI and VGA source devices, providing connectivity for sources such as laptops and tablets, as well as display on/off and source selection control that is simple enough for any user to understand with virtually no training.
 
Simply put, an entire meeting can be run with only two buttons: an "on/off" button which turns the switcher and the display on or off, and a "share me" button which switches the active input channel to the table insert on which the button was pressed.
 
The system also features automatic switching for sources that are not connected to the table inserts, such as media players, fixed PCs, or document cameras. When a source is connected and/or powered on, the system will recognize the input and automatically switch to that channel.
 
The TechLogix Share-Me™ Series is also designed for an extremely quick installation. Simply mount the switcher under the podium or conference room table, mount the table inserts in pre-cut holes sized from 36mm through 60mm, and connect the table inserts to the switcher using standard HDMI cables and a 3.5mm cable. All power and control commands are sent from the table inserts to the switcher via the 3.5mm cable, and all display on/off commands are sent from the switcher to the display via CEC over an HDMI cable.
Technical Features
Resources
Accessories
Installation
FAQ
SKUs
Includes switcher with two HDMI inputs, one VGA input, and one HDMI output
Includes two 2m (6') HDMI cables and one 2m (6') VGA cable
Includes three 2m (6') SMC controller cables
Manual or automatic switching modes
HDMI ports support DisplayPort and MHL
CEC display control
Under table mounting kit included
Quick connect ports for table insert integration

Specification Sheet
Design and Installation Guide
Manual
Product Video
Design Help
Installation Help

| | | | |
| --- | --- | --- | --- |
| HDMI Control Grommet | DP Control Grommet | VGA Control Grommet | Controller cable |
| | | | |
| You can use up to [2] of these per switcher. It connects to the switcher with an HDMI and a controller cable. The controller cable is included with the switcher. | You can use up to [2] of these per switcher. It connects to the switcher with a DP-to-HDMI and a controller cable. The controller cable is included with the switcher. | You can use up to [1] of these per switcher. It connects to the switcher with a VGA and a controller cable. The controller cable is included with the switcher. | The switcher includes [3] controller cables that are 6' long. If you need a different length or extras, this product is your best bet! |

There's a video for that!




-

-



| | |
| --- | --- |
| Description | TechLogix SKU# |
| TL-SM3X1-HDV | 1003-0222 |
| Share-Meâ"¢ Kit: Switcher, (1) HDMI + (1) VGA Control Inserts | 1002-9806 |
| Share-Meâ"¢ Kit: Switcher, (2) HDMI + (1) VGA Control Inserts | 1002-9807 |