---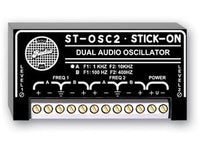 Sale
Each of the ST-OSC2 products is a Dual Audio Oscillator. These products are designed for quick, convenient installation, and reliable operation in a variety of audio applications.
Low-impedance output drives virtually any audio line
Outputs may be connected to either balanced or unbalanced lines
Multiturn level adjustment permits precise output setting
Separate output level control provided for each oscillator
Integral AGC circuitry for stable output level
Each oscillator has two separate outputs to drive stereo lines
The ST-OSC2 products feature RDL's SupplyFlex power input configuration. The module will operate directly from floating 24 Vdc or bipolar dc power. If a jumper is connected between the POWER minus terminal and any module ground, the module power becomes ground-referenced.