---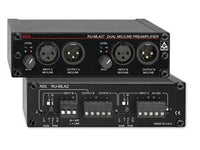 Sale
The RU-MLA2 is a dual channel audio preamplifier. The inputs and outputs may be connected through the front-panel XLR jacks or on the rear panel detachable terminal blocks. Each input accepts either a balanced microphone or line level signal. Each output provides either a microphone or line level signal. Both the front-panel XLR connectors and the rear-panel terminals are active at all times. The RU-MLA2 may be rack-mounted with the XLR jacks facing forward, or may be reverse-mounted using the RDL RU-FP1 Filler Panel/Reverse Mount Kit.
Each audio input is equipped with a rear-panel switch to select between MIC and LINE level. Two additional switches on each input allow setting the MIC input for LO or HI gain and for enabling or disabling standard 24 Vdc phantom. The two microphone gain settings allow the connection of a wide variety of dynamic and condenser microphones. Each output is provided with a separate rear-panel switch to set the associated level to either MIC or LINE. Audio outputs may be wired balanced or unbalanced. Crosstalk between channels is below the noise floor, allowing the RU-MLA2 to be operated as a stereo preamplifier or as two separate mono preamplifiers.
Gain trim for each channel is provided on a front-panel control. An RDL Dual-led VU meter is provided above each channel gain trimmer. The meters are calibrated to indicate +4 dBu for outputs set to line level.
The rear panel provides a detachable terminal block and a power input jack to connect 24 Vdc power. The RU-MLA2 audio outputs are active balanced. Each output of the RU-MLA2T is equipped with a studio-quality audio output transformer.