---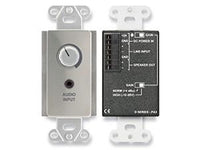 Sale
The D SERIES-PA3 is a high efficiency 3.5 W power amplifier with two line inputs and an amplified output to drive a 4 or 8 ohm speaker. The -PA3 features a balanced line level input that may be connected unbalanced. The gain range will accommodate standard unbalanced levels as well as professional balanced levels.
The amplifier features a stereo Mini-Jack input on the front panel. The input is designed to receive standard -10 dBV consumer level signals from sources such as a computer or personal media player. The left and right audio signals received on the Mini-Jack are summed to mono and amplified. When a source is connected, the rear-panel input is switched off. The amplified output level is controlled by a front-panel volume control.
A recessed slide switch on the side of the chassis is set during installation. This switch determines the sensitivity of the balanced rear-panel input.
Amplification is provided by a high-efficiency Class D power stage with audio filtering tailored for crisp, pleasant audio clarity. The high-efficiency Class D output stage produces negligible heat for all levels of expected voice or music modulation.
The D SERIES-PA3 is designed to be mounted in a wall box. The front panel does not include any illuminated indicators, making the -PA3 ideally suited to installation in dark rooms or areas. Wiring is connected through a rear-panel detachable terminal block. Module operation is from a 24 Vdc ground-referenced power supply.