---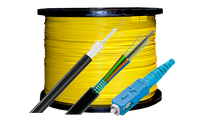 Single mode, multi-strand & more
Everyone knows lasers are cool, and most people are warming up to fiber optics in AV. TechLogix is more than multimode – we offer hundreds of fiber optic cable and connector configurations.
Use the below configurator to receive a custom quote on single mode, multi-strand and distribution, direct burial, tactical and more.
Give it a try! Fill out the form below to get started.
Quote Request Form
Resources
FAQ
How does it work?

Fill out the form below, if you have multiple cable types you want quoted, just resubmit the form for each cable type.
We will contact you with pricing and lead-time.
Once you have approved the order, we go into production and deliver it wherever you want.

How long does it take?

We will get you a quote back within 24 hours. Normally, we can ship it out to you in about 2 weeks once you have given us approval.



How much does it cost?

A lot less than you would think! There are so many variations on the cabling it is hard to tell you about the price here, but our pricing is very competitive and think of all the money you will save not having to terminate it yourself!